Wario's Fast Food Factory is the place Richard McRoy works at in Five Nights at Wario's. This is known to be the original Death places of Wario,Waluigi,Luigi,Mario and Peach. 
The Office
The Office is where the player works at in The first FNAW game. They must monitor the cameras,looking out for Mario and keeping the other characters from getting in using the doors.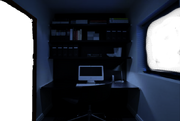 Doorway blind spot
The doorway Blind spot is outside the left corner of the office. The Player must check it to make sure Wario and Waluigi aren't there. This room can only be observed by using the office's doorlight.
Window blind spot
The Window blind spot is outside the right corner of the office. The room can also only be observed when the player shines the doorlight. The player must make sure to check and see if Peach and Luigi aren't there.
Office Exit
The Office Exit can be viewed through using the cameras. whenever Wario or Waluigi make it here,the player will the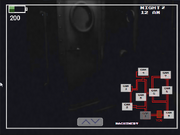 sound of a door opening,triggering that wario or waluigi are close. 
Control room 
The Control room is a area that Peach and Luigi visit. This area is found next to the window's blind spot. And the player can view this room by camera. 
Bathroom
The Bathroom is a area that the player can only view on camera when Wario Man is in there.
Corridor
The Corridor is the Starting Location for Luigi. He is first seen flying before getting on the ground and leaving. 
Entrance 1
Entrance 1 is the starting location for both Wario and Waluigi. They sit in the hallway for a few minutes before leaving. 
Entrance 2
Entrance 2 is the starting location for peach. she is seen in a screaming position with Luigi or Mario being seen in the process.
Freezing Room
The Freezing Room is one of the areas the player can view on the camera. Wario is sometimes seen here. Waluigi can also be seen here as well in the DEMO. 
Machinery Room
The Machinery Room Is a room a little bit far from the Player's office. Wario is seen hiding under the desk sometimes,and Waluigi is seen in a stomping position sometimes as well.